About Us
Mslivestream was formed in October 2004 to set a new standard for audio and video streaming hosting solutions.  The goal was to provide our customers with a superior managed streaming hosting environment through a unique suite of services (Shoutcast, Flash Media Server, Windows Media Server, audio and video streaming services), innovative network design, top-class customer service and the latest technological advances in server hardware. In essence, we aim to provide managed service environments that not only supports our clients at all levels, but also provides true value. The final result is that we are able to offer the industries most reliable, advanced, and secure complete managed solutions available today on the streaming hosting market. 

Mslivestream currently owns and operates private racks in 3 different Data Centers (USA-Europe). Our multi-homed network is powered by premium tier-1 bandwidth featuring diverse path OC-48 fiber connectivity with carriers like: Nlayer, Level3, NTT, Savvis, Global Crossing, TeliaSonera and several direct peerings.

The implementation of premium tier-1 bandwidth ensures enhanced stability and superior performance in reliability, throughput and latency for your streaming. Coupled with BGP, network consistency is assured in the event of a provider network outage or even a core routing hardware failure. Mslivestream maintains low overall network utilization at all times providing durability during any large internet routing issues.

Our technologies ensure a guaranteed 99.99% access (Network Uptime S.L.A.) through a high-speed connection to your streams. Each Mslivestream streaming server is connected to a dedicated 1Gbps port, which we make sure never runs out of bandwidth. How? An automated system monitors the usage and as soon as a server has reached 80% of the capacity, new connections are shifted to a new server (load balancing system). This guarantees absolutely secure and stable streams.
- Flash Media Server video/audio hosting services
- Windows Media Server video/audio hosting services
- Shoutcast – aacPlus audio hosting services
- Multi-homed (several Internet Backbone Connections)
- Full-meshed OSPF/BGP4 Network 
- Redundant Gigabits links to operators 
- 1 Gbps Streaming Servers
- Standard 10Gb Ethernet
- IPV 6 compatible network 
- 99.99% Network Uptime Guarantee
- Servers location: - USA (Equinix-Ashburn VA; Equinix-Chicago IL) - Europe
(TeleCityRedbus-London UK) 
- Load Balanced Servers
- Redundant Routers & Firewalls
- 24/7 Network Monitoring with internal and external probes checking availability and quality
- TCP and UDP Ports Monitoring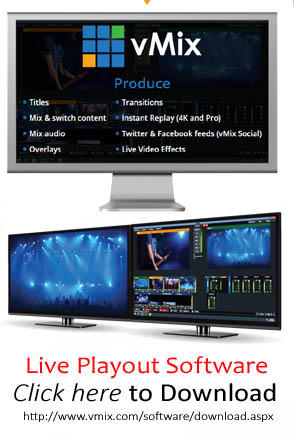 Q9r9sG4h9w